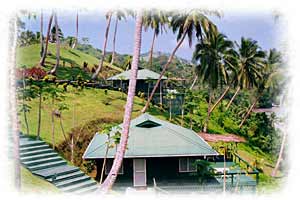 FijiGuide.com
Posted 19th January 2010, Read the latest comments by travel journalist Robert Kay on FijiGuide.com
Click here to read the full travel blog

Getaway! -- Channel 9 Australia
On 8th August 2002, Lomalagi Resort was featured on Australian TV's popular travel show - 'Getaway'.
"Lomalagi is all about choice and guests' preferences are taken into consideration on all aspects".
Click here to read the full report

Bay of Plenty Times -- New Zealand
"'WELCOME to Heaven'. The arched sign says it all. The only thing that's missing is the pearly gates. Lomalagi — Fijian for heaven — is a resort with views to die for and possibly one of the few resorts where you can be surrounded by others but feel like you're the only one there".

Chronicle-Herald -- Dartmouth NH, USA -- in an article titled 'In Fiji, Just Relax'.
"The brochure says "Lomalagi is for Lovers" and indeed it is. Six secluded villas in a working coconut plantation overlook the vast reaches of Natewa Bay. The sunset was glorious, but even more impressive was our introduction into Fijian culture".

Post-Crescent, Milwaukee WI, USA -- in an article titled 'Leave Worldly Stress Behind ...'
"With only six villas, Lomalagi is able to make individual arrangements for each guest. We were captivated by the tiny village (with two churches) where we started our trek".

Rob Kay's FijiGuide web site:
"... perhaps the most spectacular natural setting of any resort in Fiji. For those who want to get away from it all, while basking in natural beauty, Lomalagi is the ticket."

Abenteuer und Reisen (German Travel magazine) - in a story titled "Die schonsten Hideaways der Welt" ("The Most Beautiful Hideaways in the World")
"Heaven for honeymooners and lovers at Vanua Levu. It is still a secret spot ..."

Fiji Post -- in a story titled "Lomalagi - heaven in northern Fiji"
"....it's a dreamy resort on a clifftop overlooking the vast expanse of Natewa Bay. Peace, beautiful peace!"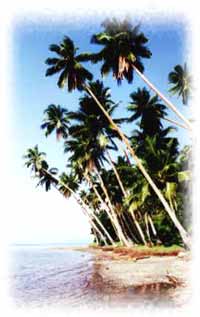 La Vie de 30ans (Japanese women's magazine) - a story titled "Great for 'Two', Romantic Resort Set Amidst Nature"
"An undiscovered earthly paradise we found in Fiji. Lovers search the world for exotic places set in lush surroundings where you can meet the local people..... I'd heard through the Japanese media that Vanua Levu, the northern island of Fiji, has one such place.....Lomalagi."

Gold Coast Weekend Bulletin (Australia) - a story titled "Heaven With Room Service"
"... there's a heaven just a few hours from Australia, east of the northern Fiji town of Savusavu, which, coincidentally, has often been called a 'hidden paradise'."

Sunday Territorian (Australia) - a story titled "A Little Piece of Paradise"
"The silence of the scene is broken only by the twittering of birds and sometimes the faint hum of an outboard on the bay, as the fishermen from the nearby village of Nasinu return home with their catch."

Air Pacific Islands Magazine - in a story titled "Savusavu = Something for Just About Everyone; Introducing Fiji's Hidden Paradise"
"Lomalagi means 'heaven' in Fijian and when you've been there you can say for sure that you've been to heaven and back!"

Sunday Tasmanian (Australia) - in a story titled "Heavenly Getaway"
"While some might prefer to spend their days swaying in a hammock with a cold Fiji Bitter in hand, there's plenty to do -- at your own pace."

Geelong Advertiser (Australia) - in a story titled "The Road to Heaven"
"The resort comprises just six spacious and luxuriously appointed villas, connected with the restaurant and each other by boardwalks, including one villa especially for honeymooners."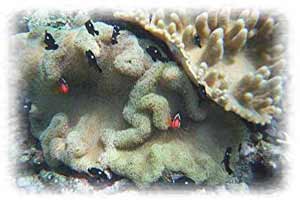 News Release - November 2000
"Imagine being in a small boat with a Fijian villager as your guide ... you motor up the East side of Natewa Bay, the largest bay in the South Pacific. The bay is located at the North-eastern corner of Vanua Levu - Fiji's second largest island. After a leisurely boat ride (trolling along the way), your guide Sam stands in the bow of the boat and calls out with a loud and eerie sound. Suddenly, you see them. Dolphins! 50 - 60 - 100, swimming straight for you. They leap and play all around you, chasing the boat ...leading the boat. For an hour! These dolphins are smaller than the usual bottlenose variety you're used to seeing in water theme parks or colder ocean sites. But, they have the same smiles! And, as they play, you can hear them talking.... There's no guarantee that they'll come when they're called of course but, according to the local Chief, they've "always been there".
Lomalagi Resort is the only property on Natewa Bay (www.lomalagi.com). The bay is about 600 square miles and over 1,000 meters deep in the center. It's 40 miles to open ocean so the bay has its own ecosystem and some of the most fabulous soft coral in the world. After you tire of playing with the dolphins, you'll go to one of several pristine reefs for snorkeling. No coral bleaching here ... the colors are unbelievable and you'll feel like you're inside an enormous tank of exotic tropical fish. Have you ever seen a Lion Fish the size of a basketball? The dolphin experience is one of many wonderful opportunities to see 'The Real Fiji' at Lomalagi Resort on Natewa Bay.